Michelle Jones
Lead Violin and President/CEO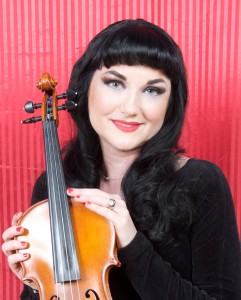 Michelle Jones is a versatile instrumentalist who performs every style from the most challenging classical music to the heaviest metal and rock music. She plays a variety of violins and violas to achieve these styles, and performs regularly on some of the world's greatest stages. Michelle is a Grammy Recording Artist and the President and Band Leader of Violectric, Inc., a string ensemble that tours and performs all over the world. The ensemble uses live percussion and plays exclusive arrangements of classic and modern rock music on acoustic-electric instruments. Violectric is an Official MTV Artist, is with Viacom networks, and their music can be heard daily on SiriusXM Radio. Violectric has been selected as the opening act for many celebrity artists, including Sia, Twenty-One Pilots, Kristin Chenoweth, Katharine McPhee, Sting, Adam Levine, David Foster, Josh Groban, Huey Lewis and the News, and several others. Violectric has also been selected as the first Artist-In-Residence and as featured artists for the grand opening of the new Dr. Phillips Center for the Performing Arts in Orlando, Florida, including live concerts and educational workshops with the Dr. Phillips Center Florida Hospital School of Art and Wellness.
Michelle is also a composer, and has scored and recorded music for several short films and full-length documentary films and television and radio commercials that have aired nationally and internationally. In early 2016, she and her musicians worked with film producers to record original music and video for a project with Dolby Laboratories that is continuously playing on the main screens in the lobby at Dolby Labs Headquarters in San Francisco, CA. She has also worked with acclaimed film producer Robin Cowie (The Blair Witch Project and others) to compose and record the music with her band Violectric in 2015 for Sea World Parks' and Busch Gardens' "Howl-O-Scream" event held nationally at several locations. The multiple compositions were included in all of the theme parks, advertisements, and short films related to the event, and will run for several years. As a recording artist, Michelle has composed and/or recorded on many albums, soundtracks for television and films, advertisements, and video games.
Through Violectric, Mrs. Jones created and established an Educational Programs Series with interactive workshops and live concerts with students, and has performed multiple concerts at the Shekou International School in Shekou, China, BETA Center in Orlando, Florida, Osceola County School for the Arts in Kissimmee, Florida, Orange County Public Schools in Florida, and Full Sail University in Winter Park, Florida. Violectric Educational Programs have been featured on local and national television broadcasts (including a feature aired on PBS nationally and internationally). The members have also been recognized for their philanthropy and commitment to education. Mrs. Jones was awarded the President's Volunteer Service Award by the White House and President Obama in 2013 and 2014 (Gold Award) and President Trump in 2016.
Michelle and her ensembles are sponsored by MAC Cosmetics, PreSonus (Mixers, Interfaces and Software), Sennheiser Instrument Systems' Artist Relations, Costumes by Bad Attitude Boutique, In-Earz and Fisher Laboratories (in-ear monitors), and Mercedes-Benz USA.
With many years of musical experience, Mrs. Jones is an accomplished violinist and violist that has performed with numerous symphony orchestras in the United States. Michelle is a featured soloist and concertmaster with the Florida Pops Orchestra located in Central Florida. She is also currently performing with several other orchestras, including as Principal Violin for the world-renowned Mantovani Orchestra and Section Violin with the Walt Disney World Orchestra. She is a solo violinist and ensemble leader for Disney's Fairytale Weddings and Honeymoons. Michelle has performed violin/viola with the following orchestras: Orlando Symphony Orchestra, Space Coast Symphony Orchestra, Space Coast Pops Orchestra, Jacksonville Symphony Orchestra, Naples Philharmonic Orchestra, The Florida Orchestra, Bach Festival Orchestra, Tampa Bay Opera, Hollywood Concert Orchestra, Imperial Symphony Orchestra, Brevard Symphony Orchestra, San Francisco Pops Orchestra, New Romberg Orchestra, Tampa Bay Chamber Orchestra, Space Coast Philharmonic, Florida Pops Orchestra, and Spartanburg Symphony Orchestra (as well as several other smaller ensembles.) She also has served as either Concertmaster or Associate Concertmaster, or section violin/viola with several touring Broadway musical productions over the past fifteen years. Michelle was Concertmaster of Basilica of the National Shrine of Mary, Queen of the Universe Orchestra from 2000-2010. Her performances have also been featured on PBS, MTV, VH1, ABC, NBC, WETV, FOX, Lifetime, Bravo and Canada's CTV.
Michelle also performs regularly on violin, viola, 5-string, vocals, keyboards and percussion with the international touring group Classic Albums Live based in Toronto, Ontario. With Classic Albums Live, Michelle has performed in the world-famous Massey Hall. She has been with this group since 2005, and enjoys recreating albums note for note, cut for cut with some of the most talented musicians in the world. Their recreations of albums by artists such as The Beatles, Pink Floyd, Rolling Stones, Aerosmith, The Who, David Bowie, and many others have been critically acclaimed by concertgoers around North America.
Michelle continues to tour professionally with artists, including Josh Groban, Fernando Varela, Anne Murray, Sarah Brightman, Bernadette Peters, Manhattan Transfer, Michael MacDonald, Art Garfunkel, Mannheim Steamroller, Chicago, Dennis DeYoung, Page and Plant (Led Zeppelin) and many others. She has performed with Itzhak Perlman, Joshua Bell, William Joseph, Jodie Benson, and other famous classical and crossover artists. She has also performed a selection of Violectric's arrangements with the Orlando Symphony Orchestra, as well as appeared as a guest rock violin soloist with the Orlando Philharmonic Orchestra and Brevard Symphony Orchestra. She has performed in some of the world's most prestigious venues, including several Chinese theatres. In China, she performed in the People's Hall of Congress, Poly Theatre and XinShiJi Theatre in Beijing, Shanghai Grand Theatre and Shanghai Oriental Arts Center in Shanghai, Shenzhen Concert Hall in Shenzhen, Suzhou Grand Theatre in Suzhou, Ningbo Grand Theatre in Ningbo, Dr. Sun Yat-Sen's Memorial Hall and Guangzhou Arts Center in Guangzhou, Hubei Theatre in Wuhan, and Hangzhou Grand Theatre in Hangzhou, and several other venues. She performed to sold out audiences on her first solo tour in cities across Japan in May 2017.
Michelle has been involved in educating students of all ages for over twenty-five years. She has served as an Adjunct Professor of Music at Converse College, Professor of Violin Studies at Suzuki Institute of Maitland, Director of Music for Windermere Community Church Preschool, Director of Music for Holy Family Catholic Church and School Early Education Center, and Music Instructor at Windermere Academy of Music. She also hosts master classes within the Central Florida public and private schools, and is frequently requested as a guest lecturer at many colleges and universities throughout the United States. Mrs. Jones currently is the owner of Strings Etc., a private studio providing music instruction for theory, arranging, and composition, and on various instruments, including violin, viola, piano and keyboards. She has also been a certified facilitator of educational programs worldwide at the Walt Disney Company through the Youth Education Series and Disney's English Language Programs.
As an active member of the American Federation of Musicians of the United States and Canada, Michelle was an international delegate and served on the Diversity Committee, International Musician Committee, and the Good and Welfare Committee, and is the former chair of the Youth Diversity Committee. She is also an active member of the Central Florida Musicians' Association where she has served on the Recording Committee, Diversity Committee, Executive Board, Youth Committee and the Contractors' Committee.
Michelle has studied with several renowned instructors, including Dr. Irene Grau, Dr. Rachel Vetter-Huang, Dr. Henry Janiec, Dr. Jerri Lucktenberg, Dr. George Lucktenberg, Mr. Alfons Carlo, and Dr. Ayako Yonetani, just to name a few. She has performed under the baton of many famous conductors, including, but not limited to: Richard Hayman and Keith Lockhart from the Boston Pops, Arnie Roth and Chip Davis from Mannheim Steamroller, Victor Borge, Marvin Hamlisch, David Effron, Dr. Henry Janiec, Dr. William Scott, Derric Johnson, Anton Coppola, and Barry Knight and Charles Ellis from the Mantovani Orchestra. Mrs. Jones attended Converse College for music and graduated from Rollins College with her business degrees, and enjoys sharing her knowledge of both subjects with aspiring musicians.