Yamilet Trujillo
Cello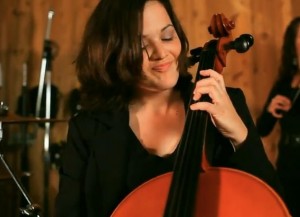 Yamilet Trujillo realized her love for music at the early age of 7, after singing along with the Barney & Friends children's television show and joining her elementary school chorus. She was also a member of the Orff ensemble and in the 4th grade began learning to play the violin. Using that background knowledge, she began to teach herself piano. In the 5th grade, she switched to cello. Although she has always had an insatiable curiosity with musical instruments (playing as many notes as she can figure out on harmonica, guitar, recorder, clarinet, double bass, viola and even water-filled glasses, she has stuck with the cello for almost 14 years.
Yamilet is a Dr. Phillips High School alumni, where she was accepted into their Visual and Performing Arts Magnet Program. She graduated from the University of Central Florida with a Bachelors in Music Performance in 2010, studying with Barbara George and Laurel Stanton. She is currently pursuing a Master of Arts with a concentration in Music Education. She has performed with the UCF Symphony Orchestra, under the direction of Dr. Laszlo Marosi, and has been the principal cellist for over 5 years. She has also played with the UCF Chamber Ensemble, String Ensemble, New Music Ensemble, and Women's Chorus.
Locally, Yamilet plays regularly with the Space Coast Symphony Orchestra, and the Space Coast Pops Orchestra under the direction of Richard Hayman, alongside guest artists including Carol Stein, Copeland Davis, and Valerie Pernice. She has also played alongside well-known artists/bands such as Jodi Benson, Maná, Kansas and Classic Albums Live. Yamilet also enjoys performing and recording for local bands and artists such as Drive to Uqbar, Ratham Stone, Stockholm, Hoyle, James Roquemore, and Edgar Junior.
Yamilet is currently teaching cello and violin with several music schools, including Sam Ash, Broadway House of Music, and A Gift for Music. Her longtime dreams include playing for a movie soundtrack, playing in Carnegie Hall, touring the world, and becoming famous!