Danny Raymond
Drums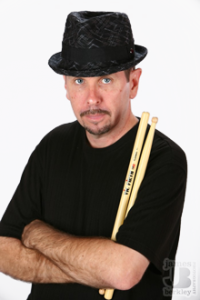 My journey with drumming began at a very early age. I still have a vivid memory of my dad showing me traditional grip and how to play paradiddles. I was 3 years old. Little did I know that something I considered fun to do would eventually lead me down a career path that includes participating in music from elementary school up through college, playing in jazz and rock bands, performing , teaching and judging in the marching activity, conducting clinics around the world, published snare drum solos and articles and last but certainly not least , a 25 year career at the Walt Disney World Company as a performer, show music designer and conducting auditions!
Now, did I put a lot of time and effort into all these things? You better believe I did and I was very fortunate to have the help, guidance and inspiration from many in the field of music that allowed me to do all these things. However, the one thing, the common denominator that ties everything in my career together and can easily be overlooked or under appreciated is the reason I do what I do…ready? IT'S FUN! I ENJOY WHAT I DO!!
I've been very fortunate to have spent over 25 years of my professional career in the Orlando Walt Disney World theme parks as a performer, show director and audition facilitator.
In the ranks of professional musicians, it's really been an honor to meet and perform with these world class people…an experience I will cherish for the rest of my life.
I started my WDW career at Hollywood Studios in a group called the Hollywood Brass, and soon thereafter the Hollywood Hitmen. These "street bands" were featuring Orlando's finest brass and rhythm section players covering all genres of music from grand opening fanfares to charts from the Tower of Power soul band. I played at the Hollywood Studios from 1989-1995.
In 1995 the Disney creative department (WDW Creative Entertainment) had set out to re-create a percussion trio street act that originated at Disneyland that ultimately became known as "Da Jammitors" at EPCOT.
The original cast of Paul Collins, Anthony Parrulli and myself help create, shape and develop what many consider to be a "must see" entertainment experience at EPCOT and actually replicated at theme parks worldwide!
The success of Da Jammitors has opened the door as a creative collaborator with music and show directors from WDW's Creative Entertainment department and most recently I've written for the Royal Majesty Maker/Giggle Gang musicians, brand new entertainment acts at the Walt Disney World Magic Kingdom.