Paul Cuevas
Upright Bass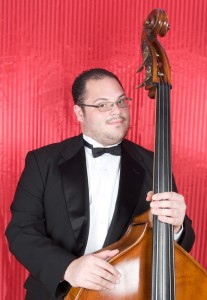 Upright Bassist, composer/arranger, and tenor Paul Cuevas began his musical training at the age of 4 under his grandfather. Continuing this training through his graduation from the Visual/Performing Arts Magnet program of Dr. Phillips High School, Paul now attends Stetson University, studying bass under John Wieland and having studied composition under Manuel DeMurga.
Mr. Cuevas has composed a vast number of pieces for the orchestral, choral, and chamber settings, which have been performed throughout the Orlando area. His works include a Requiem Mass (2008) for S.A.T.B. soloists, choir, and orchestra, concerti for Violin and Contrabass (2006, 2008), a String Quartet (2007), and numerous art songs and small choral pieces (2008-2011).
Currently, Paul is working on composing another Requiem, for Soprano, Mezzo Soprano, Harmonium, and Piano, a Divertimento for Flute and Piano, and the beginnings of his first symphony. As a performer, Mr. Cuevas has performed in multiple ensembles, including the F.S.Y.O and the Stetson Symphony Orchestra. Pieces include Dvorak Symphonies 8 and 9, Copland's Buckaroo Holiday from Rodeo, Puccini's Suor Angelica and Gianni Schicci, Mozart's Marriage of Figaro, Mendelssohn's "Italian" Symphony, Tchaikovsky's Romeo and Juliet Fantasy Overture, and musicals including Ragtime and Singin' in the Rain.